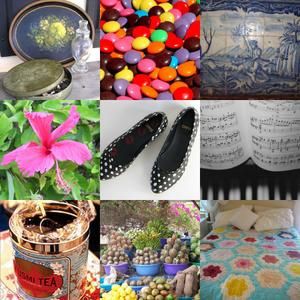 I was

tagged

by Manu. Note : I always hated chain letters
back in the time mail was arriving by post ... But now I'm doing this "meme". The phenomenon of blogging is a kind of meme, after all ...

Here's how it works ... each person tagged gives 7 random facts about themselves as well as the rules of the game. You need to tag 7 other & list their names on your blog. You also have to leave these you tag anote in their comments letting them know they have been tagged.



So ...



1. This is not my first time living in Africa ! When I was a child I moved a lot too. After the university I went abroad to do a internship and I met my beloved one (who was also abroad )... and I kept on living abroad ...
2. I was born in Lisbon and that's the city I love the most in the whole world !
3. I'm an avid reader. When I travel I never forget to carry with me a book. Last book I read is "Ritorno dall'India" by Abraham Yehoshua.
4. I love "bargain hunting" : flea markets and old book shops. I don't collect anything in particular. I just love the "thrill" of finding something special. And I love to imagine the stories behind the objects.
5. I have more pairs of shoes than I want to admit and most of it ... I don't use. And I love Camper shoes.
6. Friendship is very important to me and I'm glad that living abroad gave me the possibility of meeting very different and interesting persons
7. I enjoy the small pleasures in life - my list is very long - a good tea (earl grey from Kusmi tea ), Nivea moisturizer , Bach piano music and my children voices, the smell of the earth after it rains, , fresh exotic fruits, "smarties" candies , spicy food, laying in the hammack in the garden watching the sky before the mosquitos arrive ...hand-sewing (new for me !!!), waking up without a alarm clock ............
........ I love life !

Grazie Manu. È stato divertente ! and now I tag : ...... whoever feels like to do this ....