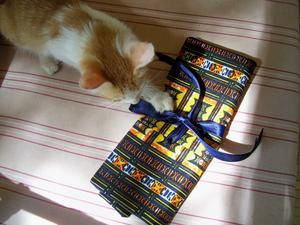 The idea for this pencil's purse comes from Marie Claire Idées n°62 , the sewing tutorial for it comes from my book "Sewing simple" , fabrics (bazin and wax print) comes from Africa ... et voilà !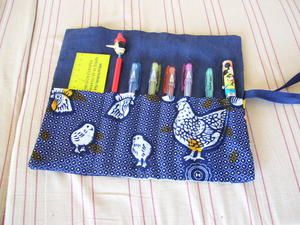 And, I was tagged (again ! ...) for a book reading meme by Verena. I have to open the book I'm currently reading on page 161 and read the fifth sentence on the page. And think of 5 bloggers to tag with this meme.
So, there's a book I'm reading little by little, for a long time now. It's called "The rituals of dinner" by Margaret Visser. Here it goes : " Medieval banqueting trestle-tables had been narrow, seating dinners along only one side so that they could be watched by a crowd of non-dining onlookers, and themselves enjoy the spetacles staged between the meal's courses".
An now I tag : Zebraknits, Onthe2ndfloor, Fralenuvole bricoleuse, SaídosdaConcha and whoever feels like doing it ...