I have a stash of african fabrics that is dying to be shown-off. So, I thought it could be a good idea to frame some pieces of fabric and hang it as we do with paintings.
come fare ? how to do ?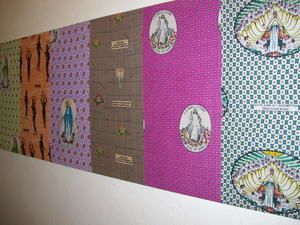 This is a collection of very kitsch african wax prints that are used as decoration in a charming old fashion colonial style hotel in Ouagadougou. I think the idea is interesting because you can really enjoy how naif and fun some prints are.
But I will choose for me more colourful prints , some of those with big motifs that you can really miss it if you cut it out in scraps ... (for my patchwork ) ... what about this one, isn't it fun ? well I don't know if i'll use it for that purpose but I love it !
Questo si potrebbe chiamare "specchio delle mie brame ..."