I haven't been cooking as I should like to, since my kitchen has become the private domaine of the cook and he doesn't like so much to see me messing around, he is a "five stars" cook , I'm a dilettante ...
Anyway, since I got to know this fantastic cook book, "The soul of a new cuisine", I simply had to try by myself some of its appealing recipes. The author, Marcus Samuelsson, is a "chef" , african-born, adopted as a child by a couple of swedish. In this book, he rediscovers the pleasures of a poor continent's cooking with recipes using simple tools but rich in vegetables and flavours.
This book has appetizing african recipes; one of my favourite is the classical : chicken peanut stew. This is something I can trust the cook to do it as he's keen on it . And also : curried trout with coconut-chili sauce from Kenya or else : spicy trout spaghetti (result of the italian occupation of Ethiopia).
This time I tried something very easy : Mango Couscous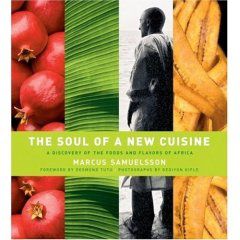 You need : 1 cup of couscous, 2 tbsp. olive oil, 1 clove garlic (minced), 1 mango (peeled, pitted and cut into small cubes), 1 jalapeño chili (seeds removed and finely chopped), 1/2 cup raisins, 1 tomato (chopped), juice of lime, 1/4 cup cilantro sprigs, 1/4 cup parsley sprigs, 1/2 tsp. salt. Prepare couscous and set aside. Heat 1 tablespoon olive oil in a large sauté pan over high heat. Add garlic, mango and jalapeño. Sauté until mango begin to color. stir in remaining 1 tablespoon olive oil, couscous, raisins, tomato, lime juice, cilantro and parsley and toss to heat through, about 1 minute. Serve hot or at room temperature.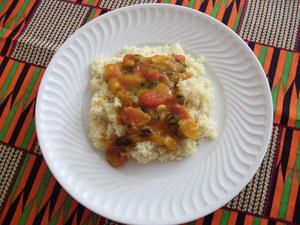 Ok, this photo is not as fantastic as some photos taken by fantastic food bloggers ... but I guarantee it's very tasty !