My patchwork group had a challenge for this month : a Christmas project. I was not very convinced of buying Christmas fabrics with Santa Claus on and tra la la ... I'm so much enjoying using african fabrics by now !...
But I love my patchwork group. You go and quilt and work around other quilters, the talk flows and someone always has a story. It's distressing.
So, here's the result :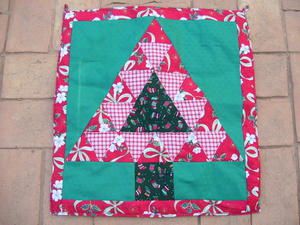 Every patch of this Christmas tree reminds me of the stories I heard there: an arranged indian marriage, life in a far away region of Canada or how to manage to (not) live a normal life in Saudi Arabia being an woman, and even the shy smile of the most misterious and silent member of the group, a japanese.
Have a nice holiday !