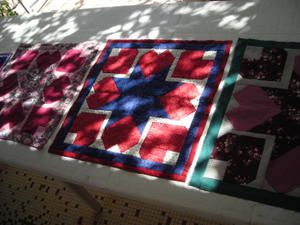 Do you notice all these hearts ? This pattern was supposed to be the the common project for Saint Valentine's for my patchwork group ... you can guess that we have some american among us for the theme's choice ! ...
Everyone used different fabrics which pulled shapes together into very different looks. It's always nice to see someone else's take on the same project. My teacher (she comes from India) used some indian cotton fabrics that gave it a special Bollywood look , with some gold touches on it (unfortunately the photo is not so good ...).
And can you spot mine ?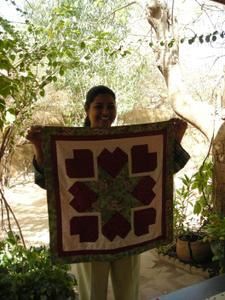 We used this book for diagrams."Hearts - Pattern design" by Diana McClun and Laura Nownes



Our next project ? A quilted blanket for picnics in the park ... or under an acacia shade out there in the savanna ...