First things first - I have to thank my fantastic swap partners !
I was delighted opening their packages, just like a small child !
Every little thing you sent me is extraordinary, as it shares a bit of your (far away...) world with me ...
Gisele sent me this fabulous pack, all the way from Tennnesse, USA. :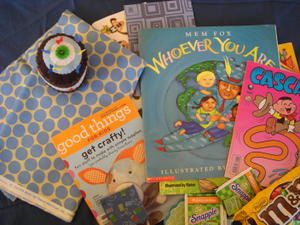 Included a beautiful polka dot blue fabric, a cute pincushion she made, a crafts ideas book, Cascão magazine (do you know these fantastic characters ??? I love it) and more yummie goodies ! And I also loved the patchwork card (is it a Denyse Schmidt design, Gisele ?)
Next is
Heidi.
We missed the opportunity to meet in the italian mountains (some other time !...) but she spoiled me with this awesome pack :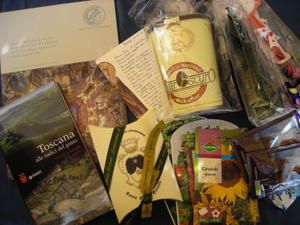 She had this great idea of sending me some sunflower (!!!) basilic and other seeds, together with some Tuscan specialities like Santa Maria Novella's soap (beautiful place to shop !), Firenze's roasted coffee, a lovely book on Tuscany culinary traditions , tea and sweets that I love !
Thanks so much, Gisele and Heidi !