Sunny days arriving ... and many of my favourite crafts blogs are talking about summer clothes projects.
For me, summer clothes are my almost unique wardrobe ... Specially now, on the dry season, temperatures go up to 40° c ...
And, as shopping malls are not around by here, I have to "create" my own clothes ... I get inspiration from Amy Butler, Boden , Simplicity, etc. but using african fabrics . Well, I don't sew it myself, as tailors are in every corner of this city ... but it's quite fun to search for fabrics and combining my favourite african prints to make the clothes that I have in mind.

The skirt is based on the A-line barcelona skirt from Amy Butler and the shirt was made from the Simplicity pattern 2962.
I'll show you more of my wardrobe in some other time. It's just that today I was dressed like that ...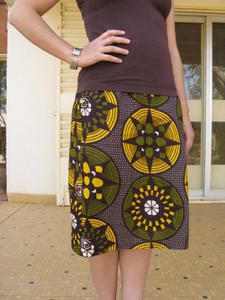 :-)